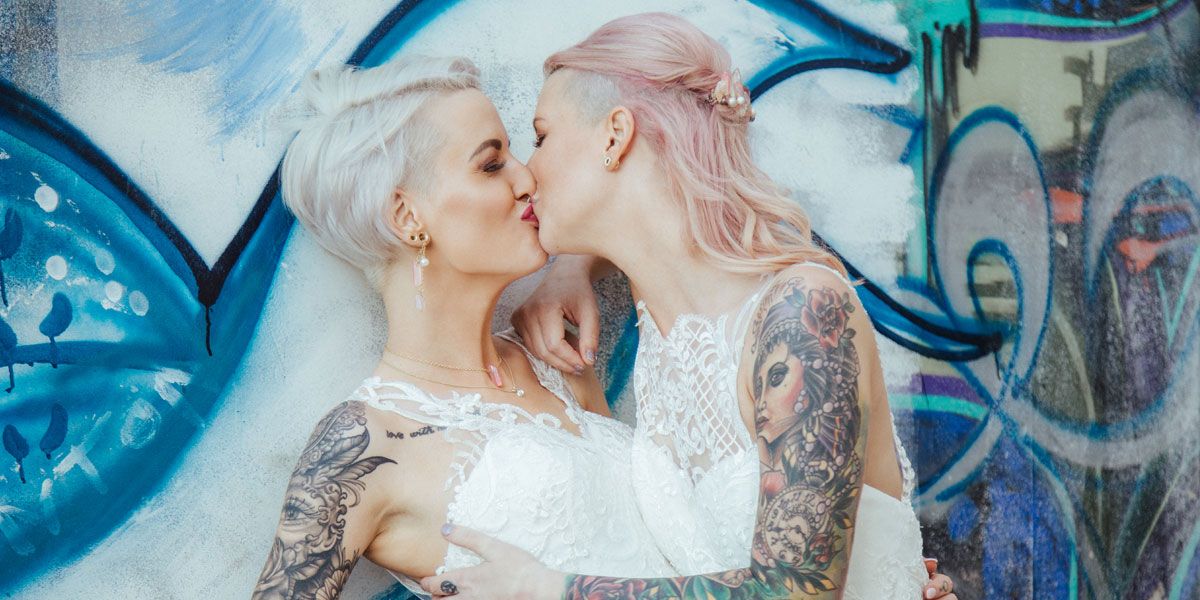 Playa del Carmen Wedding
Ali & Lindsay's Love Story
Playa del Carmen, Mexico
With their love of adventure and the beach, it's no surprise Ali and Lindsay celebrated their sun-kissed marriage on March 20, 2019 in Playa del Carmen, Mexico.
Encompassing artistic qualities, Lindsay is the Owner of her hair salon while Ali's creative side dominates her career as an Art Director. Their love story began in early 2016 as friends in their hometown of St. Louis, Missouri. Over time, they started spending more and more time together and their friendship grew into love. The pair call a crazy Halloween party (where Ali dressed up as Olivia Newton-John and Lindsay as Alex from the movie Flashdance) as the "most memorable evening they ever had." They've been inseparable ever since.
A couple months later, on Christmas Day, Ali surprised Lindsay with Celine Dion tickets and a trip to Las Vegas. Neon lights, exhilarating dance clubs, and some relaxing pool time made for great Sin City memories. But happy times were challenged by unforeseen medical conditions for Lindsay, who experienced an inexplicable sickness hospitalizing her for months. In sickness and in health Lindsay and Ali's relationship prevailed and love flourished.
In August 2018 the pair took another trip to Las Vegas. After a fun day on the Vegas Strip, Ali asked Lindsay to watch the fountains at the Bellagio and then celebrate Ali's birthday with a dinner. Little did Lindsay know, Ali had some magic up her sleeve. She coordinated a surprise proposal with a local magician and during his last illusion, Ali pulled a card that read, "will you marry me?" Of course, she said "yes!"
Upon their return, Lindsay's mother started the planning for the big day, enlisting Linda Burchett, Owner of My Playa Wedding, to make their destination wedding day dream come true. The brides had a clear vision from the start involving a gold, blush, and ivory color palette combined with romantic greenery. With the backdrop of the turquoise sea at a bohemian beach club with sugary white sand, it was a perfect location for their dream wedding.
The Brides awoke to sunny skies on their wedding day in the Riviera Maya, Mexico. As Lindsay styles Ali's hair every day at home, she styled her Bride's hair on her wedding day. After their hair and make-up session, both Brides had their "first look" with their fathers. Friend, Joshua Bright played the dual role of makeup artist and officiant, donning a white shirt, rose blush pants and a multi-colored bow tie. The Brides wore beautiful, sleeveless white dresses from the Wedding Gallery, and they added a subtle touch of color with their jewelry and hair accessories. And if that wasn't enough, the Ring Princesses stole the hearts of many with tulle dresses with blush and ivory floral crowns as they bounced down the sugary, sand aisle with scattered rose petals paving the way. Joining the Brides at the alter was their precocious 9-year-old son, Bryant, who helped walk Lindsay down the aisle and held her hand throughout the ceremony.
The day was perfect and Lindsay told her new Bride she could not wait to begin their "forever, fantasy fairytale life together".
Wedding Planner: Linda Burchett, My Playa Wedding
Photographer: VIVA Photography, Playa del Carmen, Mexico
Wedding Venue: El Taj Oceanfront, Playa del Carmen, Mexico
Wedding Dresses: The Wedding Gallery, St. Louis
Rings: Point No Point Studio
Hair & Make-up: Kaily Heusler, Joshua Bright, Lindsay Green