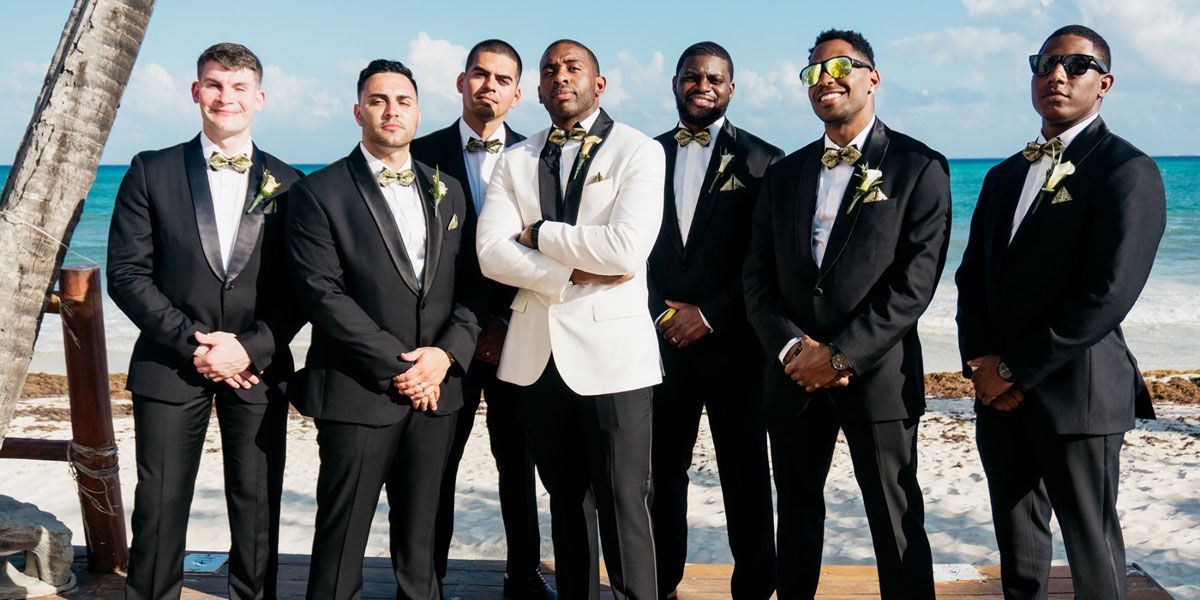 Love In The Club
Playa del Carmen Wedding, Mexico
As a wedding planner, I hear many love stories about how couples meet. And this one, is one of my favorites, as I laughed out loud on my couch on a Saturday night. The story began with a "her versus his" story.
HER STORY
One night, April and her friend went out for a girls night at a local hookah bar. April eyed a colorful drink in the hands of her future husband and she asked what he was drinking. After sharing small talk about clubs, Jeremie mentioned "he didn't do clubs" and they went their separate ways. Later that night, the girls walked to another club and fate, once again, brought the couple together. "Mmhm", April thought, I just ran into "Mr. I don't do clubs", at another club. The couple shared some laughs and the night ended with the couple parting. Two months later, the girls hit the same club, when April saw her future husband to be. This time, Jeremie asked her for her number, April gave it to him and he immediately called it to make sure it was her. She laughed so much and claims she has not stopped smiling since..
HIS STORY
Jeremie's night began with friends, going out to a club. He remembers they ordered drinks and sat down when a "goddess of a woman with a smile as bright as the sun" tapped him on his shoulder and asked what he was drinking. They exchanged small talk and she asked him if they were going to another club. He replied "I don't do clubs". They chatted a bit more and parted ways. Later that evening, you can imagine her surprise when she found him at another club! The night ended with no numbers exchanged and life went on as usual. A couple months later, "Mr. I don't do clubs" went clubbing and as he scanned the dance floor, his lost goddess re-appeared with her beautiful smile. He made sure he asked for her number and immediately dialed the number to assure it was hers. He vowed not to let her go.
THE WEDDING
Fun aside, April serves in the United States Army while Jeremie serves in the Air Force. On their wedding day, the Bride was supported by her sisters as well as her friends who serve with her as a dentists in the army. Jeremie was supported by friends and fellow servicemen who served alongside with him in Alabama and Korea. The wedding brought friends and family together from around the world to celebrate their union.
Due to the demands of traveling, the Bride & Groom had a "hardly at home" theme and hashtag. So, it was no surprise when they chose Playa del Carmen, Mexico for their destination wedding. They kicked off the weekend with an "All White Tequila and Taco Fiesta" nestled in a cenote and jungle themed restaurant. For the wedding, the Bride had a vision of an elegant seaside event, encompassing a gold, black and white color palette. Bringing her creativity to the special night, April created her own gold glittered "Mr. & Mrs" cake topper, designed gold place cards and table locaters with photographs reminiscent of their favorite travels. Topping off the night, the couple surprised guests with a dress change into traditional Panamanian attire, with an extravagant headpiece, made of over 100 individual pieces, and danced to "El Punto", a romantic couples dance honoring Jeremie's culture from Panama. The weekend was full of love, laughter, togetherness and tradition making their Playa del Carmen destination wedding a night they will never forget, while the photos will last a lifetime, by VIVA Photography, Playa del Carmen.