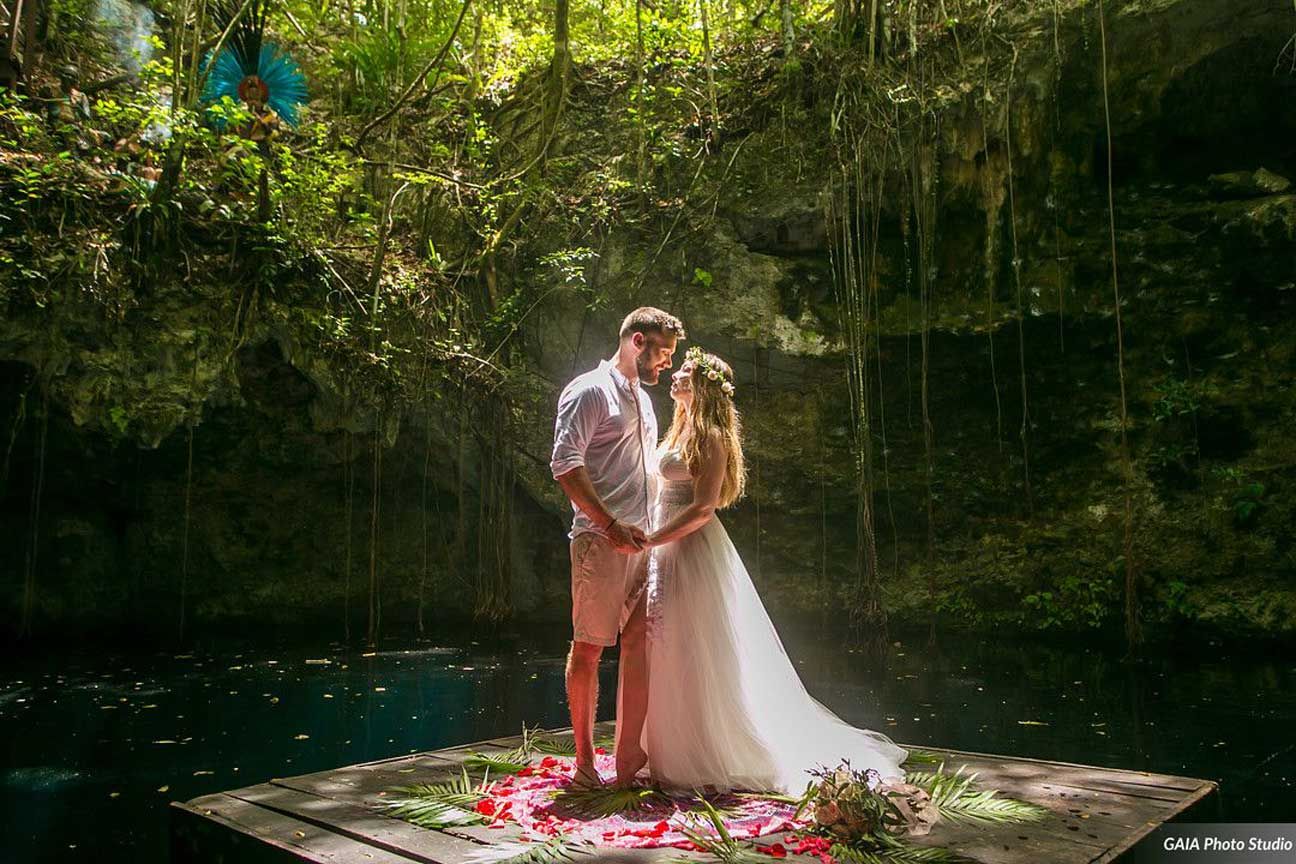 Cenote Wedding & Vow Renewal
Book a Cenote Wedding Ceremony or Cenote Vow Renewal
Looking for a unique location for your destination wedding in the Riviera Maya, Mexico? Cenotes in the Riviera Maya are mystical, beautiful and crystal clear....a perfect location for an intimate ceremony. What is a cenote? A cenote, is a deep natural well or sinkhole formed by the collapse of surface limestone that exposes ground water underneath. Some cenotes are used by the ancient Mayans for sacrificial offerings. These amazing creations are all unique, they vary in size, can consist of fresh or salt water, and entrances can be grand or narrow. However, they are simply a wonderful act of nature, one can see on your visit to the Riviera Maya, located in the Yucatan, Mexico.
Cenotes are a great location for intimate wedding ceremonies, vow renewals or for those looking for a special place to elope. My Playa Wedding offers a variety of cenote wedding packages. The most popular cenote package includes our professional and bonded driver to pick you up at your hotel in a private van, (with your favorite beverages, of course) whisk you away to one of these unique locations where the Officiator will be waiting for your arrival to tie the knot while our photographer shoots your ceremony and family photos! Many newlyweds will then book a "trash the dress" session after the ceremony, where you can get amazing shots in this spectacular setting, as well as under water shots. If you are looking for a beach ceremony, we can always schedule a photo shoot at one of the Yucatan's cenotes a couple days after your Playa del Carmen or Tulum wedding.
When visiting the Yucatan, be sure to check out at least one of these magical creations or make it your wedding day ceremony dream site!